2021 Garden Contest Winners Announced
Once again this year, our judges were delighted to view the creative efforts of enthusiastic resident gardeners excited to show what they can do and grow. Our 2021 Garden Contest brought both first-time and returning participants, as well as new and seasoned gardeners. This year we even had an apartment building enter as the superintendent put his own effort into growing a shared space!
Each garden was as unique as the gardener who created it, and the judges were truly wowed by the creativity, variety, and the details of art and sculpture that added character. Choosing winners and honourable mentions was very difficult, but the age of the garden didn't really make a difference.
We want to thank all participants for inviting us to enjoy their creations, celebrate their efforts, and share their outstanding outdoor spaces with the neighbourhood.
Congratulations to this year's Garden Contest winners:
Carol Wilson, Painter's Garden, 338 Brookdale Avenue
Second Prize: Bonnie Evans, Whimsy Garden, 365 Greer Road
Third Prize: Elke Fingerle, Old Time Garden, 297 Deloraine Avenue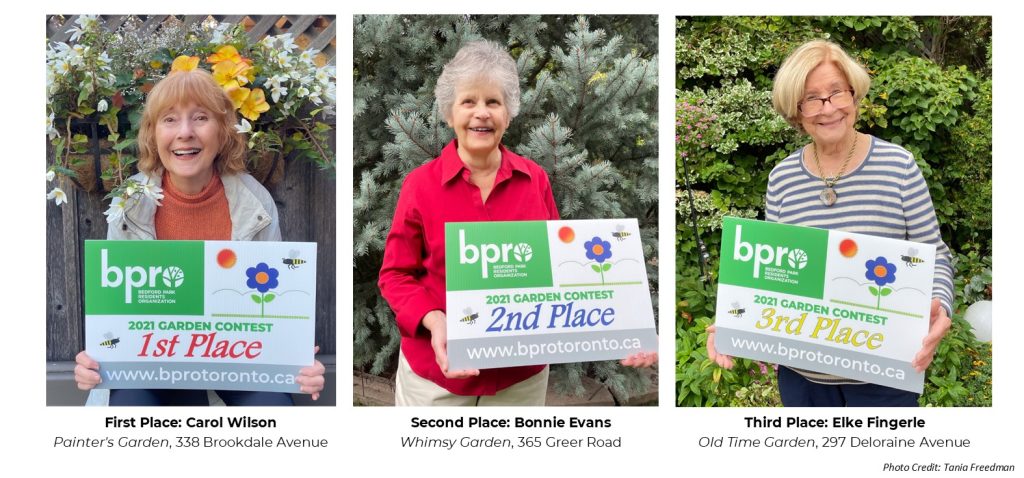 We would also like to recognize this year's Honourable Mentions (in alphabetical order):
Alan Flint, Bonsai Garden, 357 Brookdale Avenue
Susan Kivlichan, Border and Shade Garden, 175 Cranbrook Avenue
Lorna Reevely, Raised Garden, 41 Bedford Park Avenue
Read on to learn more about the unique features of these lovely gardens. Thank you to Garden Contest organizer Michelle Moore for the beautiful photos that accompany each story.
First Prize: Carol Wilson, Painter's Garden, 338 Brookdale Avenue
The front garden presents as a groomed woodland. Anchored by a maple, serviceberries are strategically planted throughout the space. Lilies, hydrangeas, hostas and ornamental grasses fill the yard, accented by a distressed metal birdbath—a decorative accent that continues in the back. In late summer, the garden features a party of cheerful black-eyed susans.
A surprise is hidden by a rustic partial wall adorned with flowering climbers: behind it sits a painter's studio complete with workbench, easel and space for a conversation area, giving this garden its name. Everything about this garden called to the creative soul in each of the judges.
---
Second Prize: Bonnie Evans, Whimsy Garden, 365 Greer Road
Visitors are welcomed into a maze of curving brick paths running through the small front garden. In the centre sits a secluded bird bath and a beautiful old maple tree. Native plants, shrubs, and a variety of blooming flowers fill the spaces in between.
In the back, visitors are greeted by whimsical statues around the deck, which has a bench providing a comfy place to view the garden. A massive blue spruce stands sentinel in one corner, complimented by a variety of mature shrubs and smaller trees. Not all of the garden can be seen from the deck, however, as it's deftly separated into outdoor rooms—a place for sitting, a place for play, a place for entertaining, and a small area to work.
Tucked behind the grassed play area is a sunny, secluded patio surrounded by lush plantings. A topiary separates the spruce from the rustic garage, stained to blend in. A variety of flowers in pots and perennial plantings beautifully accent each section of this lovely and surprising garden, which is truly made for living.
---
Third Prize: Elke Fingerle, Old Time Garden, 297 Deloraine Avenue
Elke submitted both the front and back gardens because of the atypical orientation of the front, side and back gardens on this corner lot (the front yard faces Deloraine, while the entrance is on the Greer side of the house). The front yard consists of a large lawn surrounded by hydrangea bushes and a stunning weeping Alaskan cedar in the corner. A well-established flower garden sits packed with an array of colourful annuals and perennials.
The side gate opens onto the home's entrance and leads you into a peaceful oasis. To the left, a garden path lined with crabapples and climbing euonymus leads to the front garden. A splash of colorful blooms here and there give the impression that something magical will appear at any moment, as does the whimsical gnome sitting on a tree branch. Turning right, the path leads to a large back garden brimming with life.
A covered outdoor dining area sits adjacent to the house, surrounded by shrubbery, more blooms, and sculpture details. In the length of the yard, a fish fountain compliments the chirping birds, with a fence line full of trees, shrubs and more blooms that change throughout the season. In the center of the garden sits a majestic maple adorned by a nymph and surrounded by potted plants at its base.
---
Honourable Mention: Alan Flint, Bonsai Garden, 357 Brookdale Avenue
While the judges viewed both the front and back gardens, it was the back that truly captured their attention with its immediate feel of Zen-like peace and tranquility. This is an ordered garden with attention to space and texture using plants that work well for the sunny and shady spots. The garden itself is bracketed by two living spaces. The deeply-shaded dining area is watched over by a very well-tended crabapple tree pruned like a bonsai tree. The small grass lawn is supported on both sides by plantings of varying heights, with the taller plants being well-trimmed into forms that accentuate their blooms. The "end-bracket" is a sitting/reading deck containing two comfy chairs warmed by the afternoon sun. Tucked along the side of this deck are potted bonsai trees that are older than they look.
Susan Kivlichan, Border and Shade Garden, 175 Cranbrook Avenue
The judges first visited this garden on a rainy day when the grass and vibrant flowers were glistening with moisture. Susan explained that this was a new garden planted in response to the Covid lockdown and born out of a desire to learn something new. Though new to gardening, she has clearly jumped in with both trowels and is willing to experiment with what works and what doesn't, playing with a variety of perennials and annuals like few gardens we have seen. The two long borders framing the yard were a riot of colours and textures, providing a delight for the eyes. On the second visit, it became clear that there was also a corner that received very little sun, a challenge for any gardener, which contained new plantings watched over by statues of a crow, two bunnies, and a frog.
Lorna Reevely, Raised Garden, 41 Bedford Park Avenue
At street level, nasturtiums act as sentries along the walkway, supervised by the trees above. This garden can't be fully viewed without walking up the stairs and right into it. The inspiration is a nod to the English mix of structural organization combined with a spray of various flowers and shrubs calling to rebel. Built around a centre of paving stones that provide a wonderful spot to people-watch, it calls you to bring a book and a bevvy to enjoy the late-day sun. Looming above the scene are cheerful sunflowers turning their faces to say hello. You must pass through this garden on the way to the front door, but it begs you to stop, turn around, and take it all in. As a first-time entrant, this garden shows great potential to be a winner in the coming years.
Thank You to This Year's Judges
Michelle Moore
Michelle's passion for gardening and love of Bedford Park have been the driving force behind her inspiration to create and organize BPRO's Garden Contest. A resident of Bedford Park for 18 years and a gardener herself, she takes great pleasure in seeing how each contestant's gardens grow over the summer and remains in awe of the creativity that shines through each gardener's approach. Michelle is also an avid photographer, as evidenced by the many gorgeous photographs of this year's winners and honourable mentions.
John Miles
John is an avid gardener who has lived in Bedford Park for 30 years. As a BPRO Board member, John is ineligible to enter the contest—a good thing for the winners as his own garden would have definitely been a top contender—and so participates as a judge. This is his second year with the Garden Contest. He is also President of the North Toronto Croquet Club.
Maureen McCandless
Maureen may have just joined the Garden Contest as a judge this year, but she brings a decade of experience as a gardening committee member for the Bedford Glen townhouse complex. She also works on the BPRO Communications Committee to help get our community news out. Maureen has a background in public relations and journalism but is now retired, allowing her time to stop and 'smell the roses' and be a volunteer.
---
Many thanks to our 2021 sponsors Frechette Lawncare (www.frechettelawncare.com), who have donated a gift basket valued at $250, and Re/Max Sales Representative Ruth Halperin (www.ruthhalperin.com), who has donated a cash prize of $150.

---